Fishing Charters in Chigasaki
We offer a fun and exciting salt-water fishing experiences on our boats.
We are happy to assist to plan your trip. First, have a look at the information below and contact us for further information.
Trip shcedule for public charters
*Public Charter=Noriai=with other customers
〇Spots Available  ×Not Available  △Undecided
Snappers
(Madai)
Light Tackle
(gomoku)
Aori
squid
Scorpion
fish
(kasago)
Horse-
mackerel
(Aji)
Maru
squid
Hairtail
(Tatiuo)
Sun
16
○
○
×
○
○
×
○
Mon
17
○
○
×
○
○
○
○
Thu
18
Regular holiday
Wed
19
○
○
×
○
○
○
○
Thu
20
○
○
○
○
○
○
○
Fri
21
○
○
○
○
○
○
○
Sat
22
○
○
○
○
○
○
○
Sun
23
○
○
○
○
○
○
○
Mon
24
○
○
△
○
○
○
△
Thu
25
○
○
△
○
○
○
△
Wed
26
○
○
△
○
○
○
△
Thu
27
○
○
△
○
○
○
△
Fri
28
○
○
△
○
○
○
△
Sat
29
○
○
△
○
○
○
△
Sun
30
○
○
△
○
○
○
△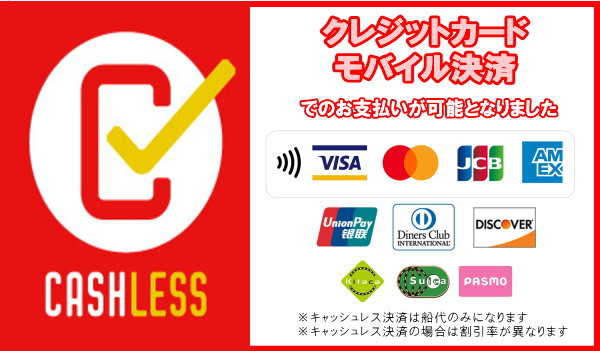 To book a Private Charter boat
Private Charter=Shitate/Kashikiri=Only your group
We take reservations for private charters
from 8 people during the weekdays and 12 people on weekends.
Required number of participants can be changed due to booking situations also in high/low seasons.
Please contact us first for availability and price.
Contact us at chiyo8701@gmail.com (English available)
Cancellation Policy for Private Charters(Shitate)
↓↓
Due to the availability and fairness to other customers,
all cancellations must be made at least 8 days prior to your scheduled trip.
Otherwise 100% of the boat fee will be charged to the group.
Even the policy above, we do appeciate if you keep your reservation:)

Price
Cash Only / Tax included
Information for rental gears is listed below.
Target Fish
Boat fee per person
Season
Departure Time
Approximate Come-back Time
Availability of Rental Gears
Please show up 1 hour before the departure time of each boat
Snapper
(Tai)
10000yen
Year-round
6:30am
1:45pm
✔
Horse-Mackarel
(Aji)
9500yen
Year-round
7:00am
2:00pm
✔
Light Tackle fishing
Target a few seasonal fish
(LT)
9500yen
Year-round
6:30am
1:45pm
✔
Halibut
(Hirame)
9500yen
Spring
6:30am
2:00pm
✔
Yellowtail
(Inada)
9500yen
Autumn to Winter
6:00am
1:30pm
✔
Tuna
(Maguro/Katsuo)
12500yen
'chums/shrimp
13000yen
Lures
Summer
6:00am
2:30pm
depending on a fishing point
✔
No rental casting gears available for tuna fishing
Ribbonfish(tachiuo)
Scorpionfish
(Kasago)
9500yen
6:00am
2:00pm
✔
Tilefish
(Amadai)
9000yen
Winter
7:00am
2:00pm
✔
Mahimahi
(SHIIRA)
10000yen
Summer
6:00am
2:00pm
△limited
take your own gears and lures if possible
Japanese Whiting
(Shiro-kisu)
8000yen
Spring to Summer
6:30am
2:00pm
✔
Discount
from the boat fee
Internet Discount
*show this page at the reception
500JPY per person
Group with 3 adults or more
1000JPY per person
Kids under 15 years old
4000JPY per child
Women
3000JPY per person
Not Valid for private charters
Rentals
Item
Rental Fee
Deposit
Notes
Non-electric gears
500yen each
Electric gears
2000yen each
*Electric gears for Fukaba Gomoku is limilted.
Pls contact us first for the availability
Gears for Tuna fishing
(non-electric)
3000yen each
Bait basket
500yen
1500yen
Pls make sure to return the item to the reception
and the deposit will be paid back.
Rod Holder
500yen
2500yen
Pls make sure to return the item to the reception
and the deposit will be paid back.
Life-vest
200yen
※for a break or a lost of gears, the actual cost will be charged.
FAQ's
◆What should we bring?
We suggest that customers bring drinks, food, snacks, sunscreen, fishing clothes, boat shoes, towels, sunglasses and coolers with ice.
◆What time should we show up?
1 hour prior to the departure time of each boat. You can check above at the price list.
◆Can we bring in our own gears and rigs?
Yes, you can. However, we must ask you to buy or rent a right one if it's not appropriated.Our captains always think best for everyone on the boat.
◆Can we take young kids?
Yes, you can. Limited to Tuna fishing we are afraid to say no for young kids without experiences.
Please undertand that safety comes first.
◆Do you clean fish for us?
Yes, we clean only big fish for you.
The price will be different size to size starting from 500yen each.
◆Do we get to choose what kind of fish we target?
We have 5-7 boats to target different fish season to season. So you will get to choose from the trip schedule above.
You can also request tartgets like Mahi-mahi that are not listed above when you privately charter a boat.
◆Is the price of the charter for each person or for a group?
It is the price for per person.